Academic Services
The Faculty of Law has been a source of legal knowledge to assist society. Many projects are created with this goal in mind.
The Legal Clinic is established with two major tasks. 
1. Legal Clinic
First, it is a trusted source of legal advice to the public where the legal advice is given under close supervision of the teachers. 
Second, the legal service is given free of charge.  The law students play a major role in the legal service. 
The involvement of the students in the legal service enables them to learn in practice ethical and legal skills.  The technique, experience and knowledge gained from providing legal service are incorporated into the subject "Principle of Legal Profession".  Moreover, the Legal Clinic organizes many volunteer projects, for example, the Pro Bono project where the students go in to the community to provide legal knowledge and assistant.
2. Other activities
2.1 Radio Programme FM 100 which provides legal knowledge to public at large
2.2  Seminars involving interesting and current legal issues
2.3  Annual meeting of academic service provider networks which is organized to hold the discussions with government and private agencies
2.4  Collaboration with other non-university agencies in organizing useful projects for society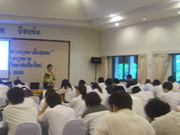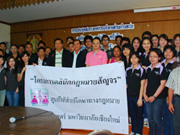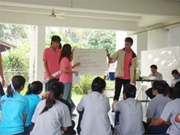 lawcmu@hotmail.com, lawcmumail@gmail.com
Tel +66.53.942920 Fax +66.53.942914